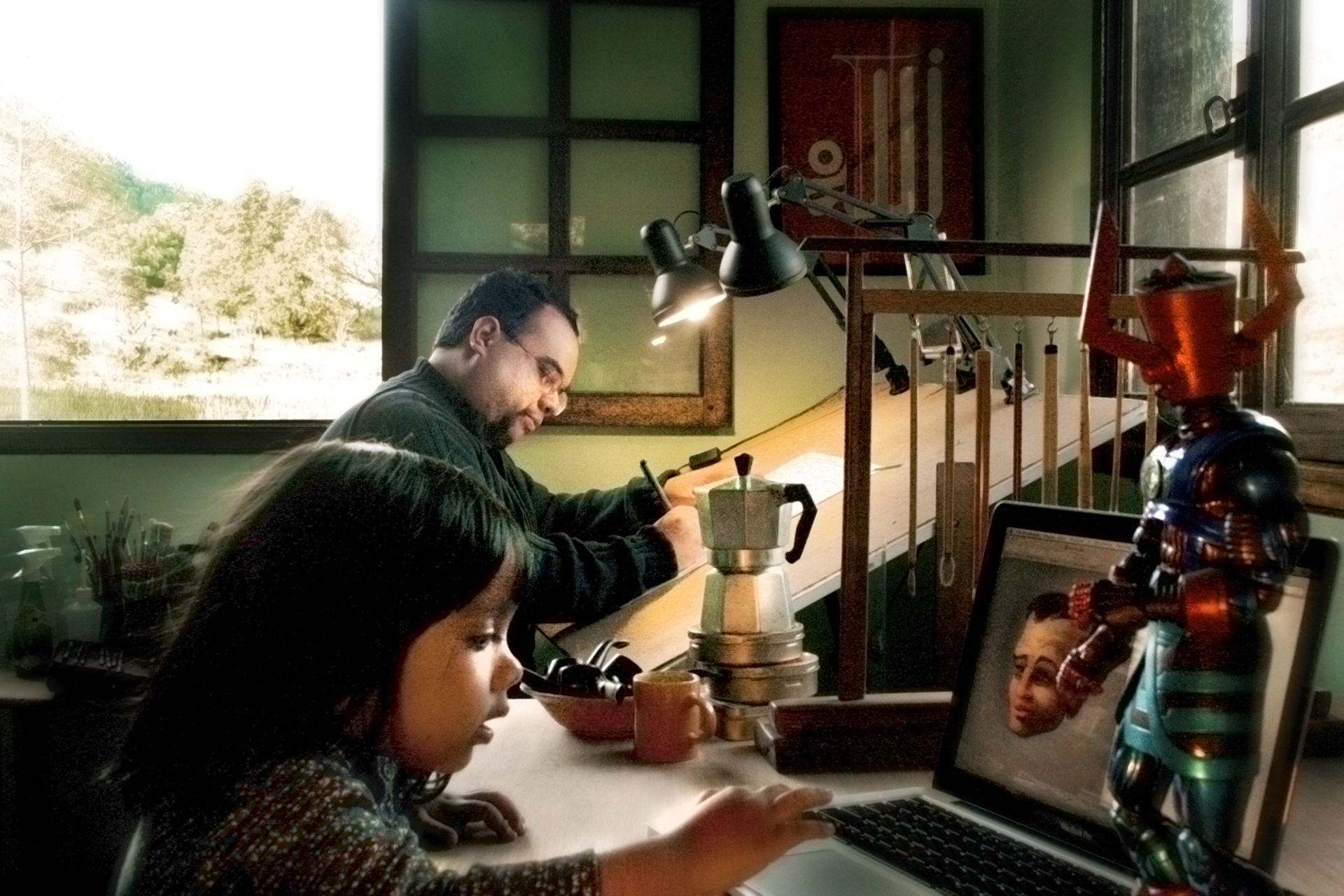 "O objetivo da arte não é representar a aparência externa das coisas, mas o seu significado interior, e este, e não a forma externa ou seus detalhes, é a verdadeira realidade."

- ARISTÓTELES
Joel Lobo trabalha com Artes Gráficas desde 1992, ano em que terminou o colegial técnico em Desenho de Comunicação na escola "
Carlos de Campos
". Especializou-se em cursos do SENAI "
Theobaldo de Nigris
" e da "
Quanta Academia de Artes
". Cursou Jornalismo na
Pontifícia Universidade Católica de São Paulo,
PUC-SP, de 1996 a 2000.
Como ilustrador tem obras publicadas em livros e revistas de grandes editoras nacionais como Abril, Globo, Moderna e Saraiva. Foi premiado no
13º MALOFIEJ
"
International Infographics Awards
" e tem a honra de integrar a coleção
Sketchbook Experience
, notória série de livros da editora
Reference Press
que apresenta alguns dos maiores nomes da ilustração atual. Joel também organiza ao lado de seu amigo Fabio Corazza os eventos
sketchJAMS
, encontros semanais de desenho durante shows ao vivo.
Em 2015, Joel lançou sua primeira HQ autoral, o álbum
Kris Klaus - Papai Noel Casca-Grossa, em parceria com roteirista Maurício Muniz. A obra, lançada na
Comic Con Experience 2015
, foi um dos 10 destaques do site 
Terra Zero
, especializado em cultura POP.
Natural da cidade de São Paulo, mudou-se para uma chácara/estúdio em uma cidade vizinha. Neste ambiente bucólico e cercado de sua coleção de quadrinhos pode passar tranquilamente as madrugadas desenhando ao som de seus LPs de Cool Jazz.
"The purpose of art is not to present the outward appearance of things, but its inner meaning: for this, not the external appearance and detail, constitutes the authentic reality"

- ARISTOTLE
Joel Lobo has been working with graphic arts since 1992 when he finished the Communication Drawing apprenticeship at "Carlos de Campos" High School. Joel has taken several courses of specialization at SENAI "Theobaldo de Nigris" as well as "Quanta Academia de Artes". He also studied journalism at the Pontifical Catholic University of São Paulo, (PUC-SP), from 1996 to 2000.
As an illustrator he has had his work published in some of the largest in-circulation Brazilian publishing houses magazines such as Editora Abril, Globo, Moderna and Saraiva. He was awarded by the 13th MALOFIEJ "International Infographics Awards" and has the honor to integrate the collection Sketchbook Experience - notorious artbooks series published by
Reference Press
that features some of the greatest names of the present day illustrators of his country. Joel also organizes with his friend Fabio Corazza the
sketchJAMS events
(weekly drawing meetings during live music shows).
He was born and lived in São Paulo since 1974 until recently when he moved to the countryside in a neighbouring city where he has his home-studio. In this bucolic environment and surrounded by his collection of comics he can quietly spend the nights drawing and listening to his Cool Jazz LPs
.